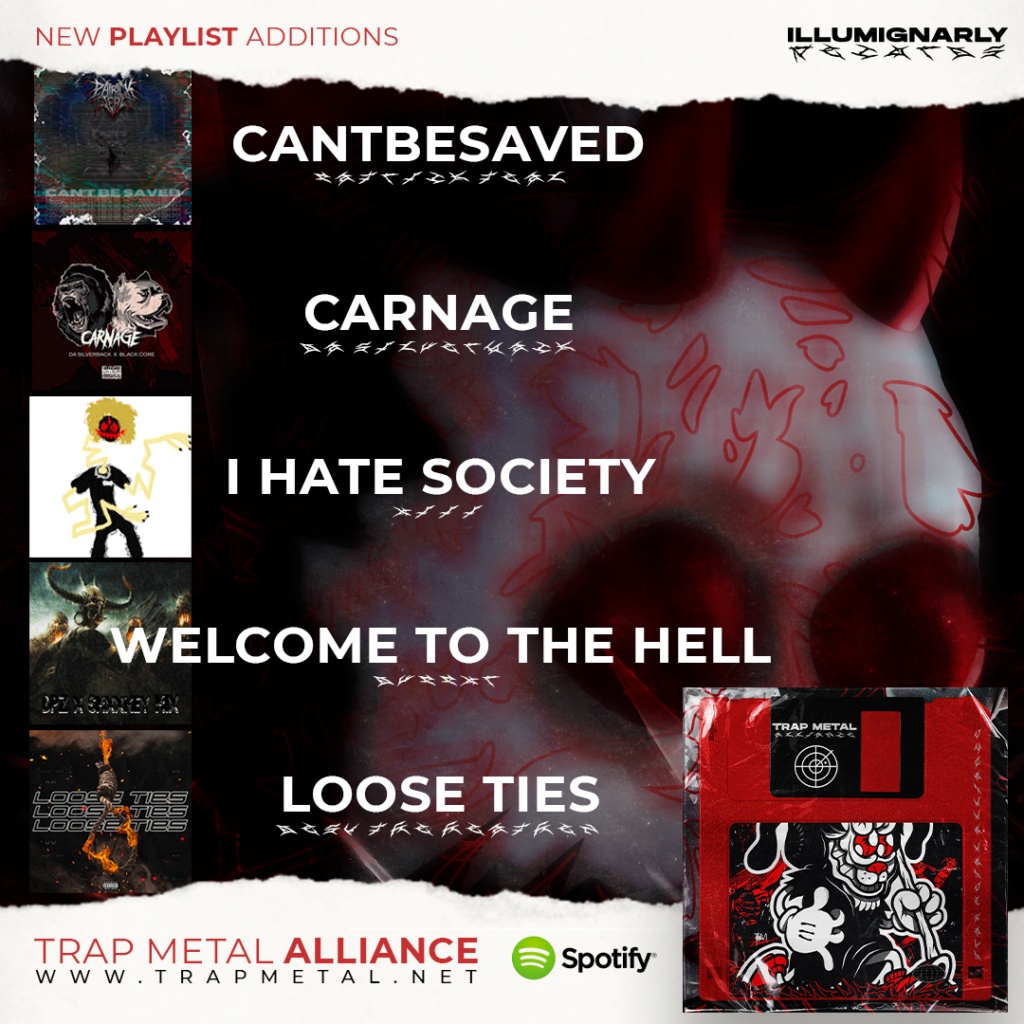 Got some new additions for our Collaborative Trap Metal Alliance Spotify playlist for you today. I also updated the playlist with some "Non-Local" Artists for your listening pleasure. I would check that out. You can find the playlist with the link under our bio.
1st we got a DIY style track produced and performed by Patrick Teal former Tik Tok curator for metalsucks.net
Cantbesaved is a rager. Patrick not only produced this track but he performs the focal as well. A great underground sounding trap metal type beat with sinister and melodic tones strait out of a gothic hack and slash video game or movie. Accompanied by high energy gutturals from the man him self. @iampatrickteal – Network w/ him
Next up, Carnage by @da.silverback
I knew I was going to approve this track as soon as the beat started. Epic guitar riff with a great tone but on some Trap Metal Sh*t. I just had to make sure the vocals were on point before approval. And sure enough, he hits the mark dead on spot. I thoroughly enjoyed the way these vocals are performed and mixed. A PERFECT addition for the playlist.
Moving on we have I HATE SOCIETY BY @13thirteen13.xiii While this track lacks some experience and a seasoned mix. XIII makes up for it with passion ad raw talent. This kid is going places and i'm stoked to be here to show him support early on! This beat is crispy and high energy and XIII screams his heart over it with intensity and determination. That a big F*CK YEA from me. ADDED
We got @smxxkey and his team coming in HOT with this submission. Welcome To The Hell. Presented on one of these aggressive Russian Phonk type beats, which is style I absolutely by the way. This track is tastefully put together and performed with passion. These guys went full demon mode on this one! Im STILL HYPED!!! I want to hear track with this TRIO. At @waldiex__/ & @dvpxrpxx1 y'all went hard on this! Keep it up!
And last but not least, we have Loose Ties by @desutheheathen This song is CLEAN! Not something you hear from me often when coming to Trap Metal additions on any of my playlists. The beat is dark trap but the vocal layers have screaming / yelling in the background which is the main requirement to get approved. (Hint Hint) This dude got mad talent. The whole production is well put together.
In conclusion. We had some great submissions and additions to our playlist today. We still have about 200 to go through! You can hear all these songs and more from not only local underground artists but also from big artists already popping off in the industry exclusively on our Spotify Playlist. If you want to submit a track for consideration be sure to stop by our Submissions page where you can send use your music inquiry. FYI There is a lengthy queue.