The Kings Of Trap Metal, Dropout Kings – New Full Length Album Dropping!
Dropout Kings are an American Nu-Metal / Rap Metal band formed in Phoenix, Arizona in 2016. The band was started by vocalist Adam Ramey, As a way to stay active. He approached rapper Eddie Wellz to do a cover of Linkin Park's "Lying From You" after seeing a video of Wellz performing on YouTube and they hit it off from there. Due to a positive reception from previous bands, Ramey also recruited Joe Lana Jr. , Staig Flynn, Rob Sebastian, and Chucky Guzman to form a new band called Phoenix Down, which by 2017 had changed its name to Dropout Kings. The band's sound combines heavy metal instrumentation with hip-hop and rap-style vocals. They released their debut album, "AudioDope," in 2017, and have since dropped several additional hits and gained a following for their high-energy live performances and unique blend of alternative musical styles.
Their name being a nod to the idea of "dropping out" of the status quo and pursuing your own path in life. The band's music often deals with themes of struggle, perseverance, and self-improvement, with lyrics that are both introspective and empowering. The Dropout Kings have been praised for their ability to blend different musical genres and create a sound that is both fresh and familiar, and they continue to push the boundaries of rap and metal with each new release. They have relentlessly dropped 11 energetic and cinematic quality music videos since they formed. DOK have also been recognized with several awards and nominations, including being recognized by the Recording Academy to be considered in the first round voting for that year's Grammy Awards for the "Best New Artist" 2022 category, Alternative Rock Band Of The Year 2019 presented by AZMT MUSIC AWARDS, and their single "Virus" peaking at #33 on the Billboard Mainstream Rock Radio Charts while spending 12 weeks in the Top 40 in 2021.
The Dropout Kings have been described as a "rap-metal supergroup" due to the fact that each member brings a seasoned and experienced perspective and skill set to the band. Paving the way for other bands and projects to be viewed in a more serious light. They may not have invented the genre Trap Metal but they carried it on their backs during a time when popularity for the sub-genre was in decline.
In addition to their musical accomplishments, the Dropout Kings have also been recognized for their innovative approach to marketing and promotion. The band has leveraged social media platforms like Instagram to build a following and engage with fans, often sharing behind-the-scenes glimpses into their creative process and personal lives. They've also collaborated with a number of brands and influencers most notably a T Shirt collaboration with a NASCAR driver they sponsored, a Rap+Metal Cover Song with Hiphop Entrepreneur / MC Futuristic, affiliations with Stay Sick Records as they work closely and tour with Fronzilla from Attila as well as a number of other collaborations. Overall, the Dropout Kings are a band that is both musically talented and business-savvy, and they continue to gain recognition and build a following in both the metal scene and the underground rap scene.
In addition to their music, the band members are also involved in various creative endeavors outside of the band. For example, Adam Ramey runs a marketing agency called Push Digital Marketing, and Eddie Wellz has a clothing brand called Floral Swords.
Dropout Kings have their 2nd full length album dropping in the beginning of May. 13 Tracks of raw Rap Metal for the books. Their current label had the following to say.
After signing with Suburban Noize Records and releasing the GlitchGang EP, Dropout Kings began to gain massive traction worldwide. The band followed that up with the trap-metal rager "Hey Uh" and a joint EP with HEDPE where they collaborated on tracks with DJ Lethal (Limp Bizkit), Twiztid, and Crazy Town. The band then embarked on a full European headlining tour where they appeared at Full Force Festival in front of 20,000 people.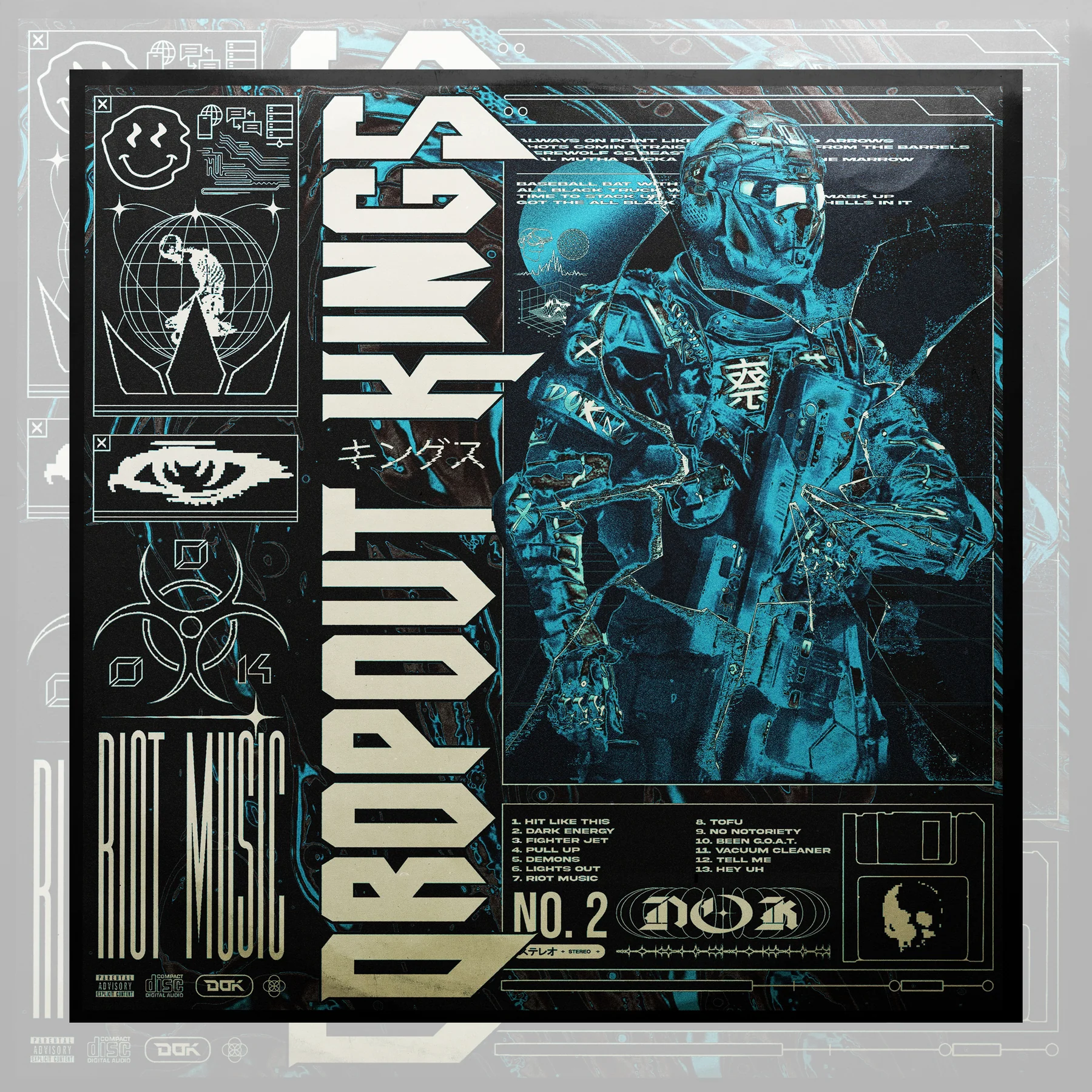 "Riot Music" is the band's upcoming debut full-length for Suburban Noize and the title track is the lead single dropping January 13th. Dropout Kings will be supporting From Ashes To New and The Word Alive throughout Nov/Dec in support of the first single. – Suburban Noize Records
Track list:
Hit Like This
Dark Energy
Fighter Jet
Pull Up
Demons
Lights Out ft. DED
Riot Music
Tofu
No Notoriety
Been G.O.A.T.
Vacuum Cleaner
Tell Me
Hey Uh
**Orders Shipping week of 5/5/23**
Dropout Kings – Riot Music [CD]