Left to Suffer Features Hobart's Kim Dracula on Artificial Anatomy off their Latest Record "Feral"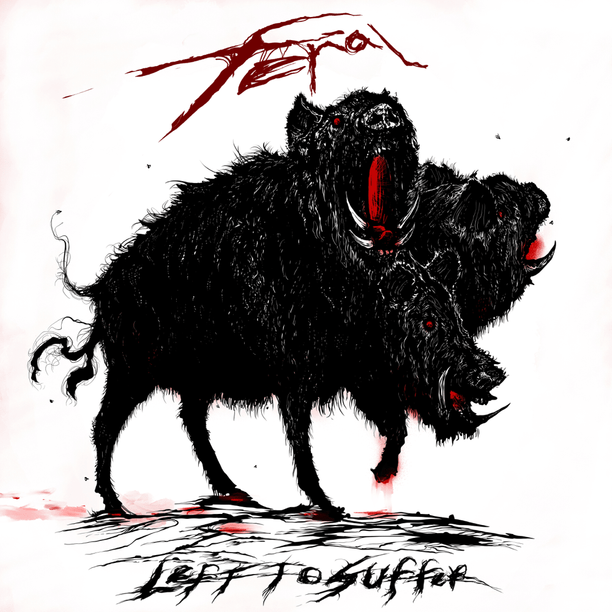 Im so excited to review "Artificial Anatomy" from the album Feral by Left To Suffer, featuring the captivating vocals of Kim Dracula. Im a fan of both Left To Suffer AND Kim Dracula so I was particularly excited to see this submission! From the very first few guitar chugs, wasting no time leading into the drop, "Artificial Anatomy" captivates listeners with eerie melodies and intricate rhythms. Left To Suffer's masterful musicianship shines brightly, creating a captivating morbid landscape that immerses the audience in a world of raw emotions and unyielding energy. Each instrument weaves together seamlessly, creating a rich and dynamic experience that perfectly complements the powerful vocals provided by Both Taylor Barber and Kim Dracula.
Kim Dracula's vocals are nothing short of exceptional, adding a layer of intensity and Trap Metal spice to this already captivating track. With each lyric, he leaves an memorable mark in the listeners mind, evoking awe as listeners process Kim Dracula's hyper-sinister rap verse / feature.
Taylor's vocal delivery is unrelenting on this whole record, not just this song. Only rivaled by the depth of his own penmanship. And some of the lyrical themes he breaks into really strike a chord with me in regards to my own feelings on the subject of vengeance.
"Artificial Anatomy" delves into thought-provoking themes that resonate deeply with the right audience. The poignant lyrics explore the complexities of abuse and standing up for yourself. Left To Suffer's ability to craft such profound lyrics that strike a chord with the people who need to hear it most, not only showcases their artistry but also creates a connection with listeners on a deep and meaningful level. The band's vulnerability adds as strong sense of purpose to the music, making "Artificial Anatomy" an emotionally charged masterpiece and Left To Suffer one of the greatest bands on the front line of the underground.
The sheer intensity and aggression in not just "Artificial Anatomy" but a lot of their songs are unparalleled. Left To Suffer delivers a never ending onslaught of heavy breakdowns, blistering guitar riffs, thunderous drumming, and experimental frequencies that ignites a fire within me every time I tune in. The energy emanating from this track is infectious, leaving no choice but to surrender to its commanding presence and undeniable energy. It is this unrelenting force that sets Left To Suffer apart and makes "Artificial Anatomy" a force to be reckoned with in the Trap Metal world.
"Artificial Anatomy" by Left To Suffer featuring Kim Dracula is a tour de force in the realm of heavy alternative music. Left To Suffer's ability to seamlessly blend musicality, emotional depth, and technical excellence sets them apart from their peers in metal. I give this song a rating of 10/10 "Artificial Anatomy," out now on all platforms.