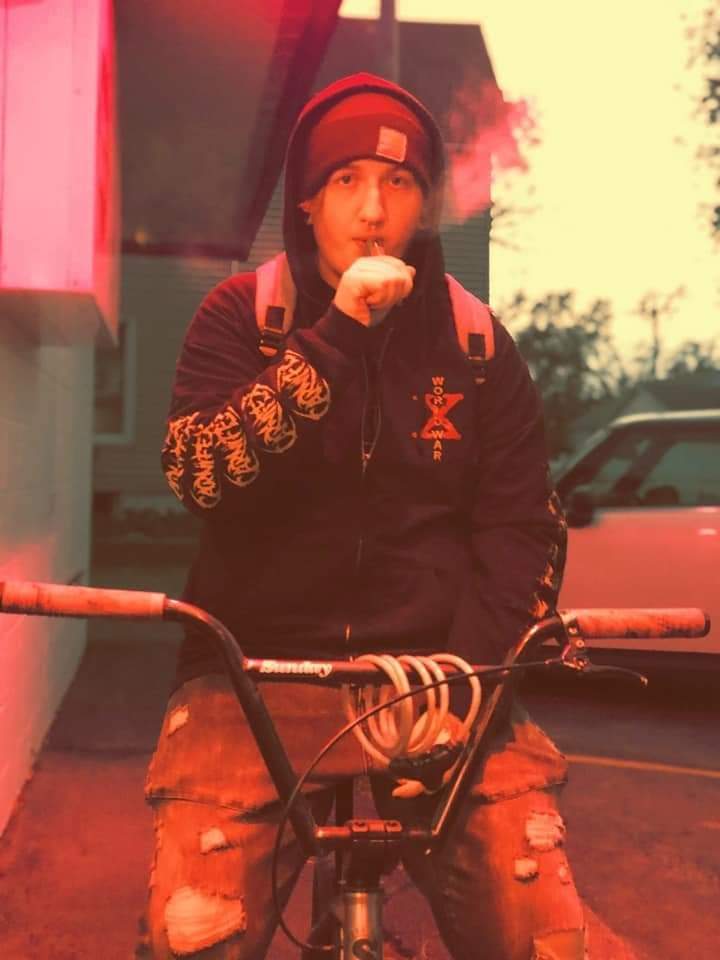 What got you into Trap Metal? Who was your first artist and who inspired you?
So, growing up I was learning how to do vocals since middle school. I wanted to do deathcore or really any metal band project around me. Nobody took it seriously though. Around 2018, me and my friend made a joke that we would be SoundCloud rappers. Before I knew it I was listening to $uicideboy$, Omen XIII, Pouya etc. When I moved to Cedar Rapids, I decided I would really do it. I got a laptop and a mic and went from there. Red Zed and City Morgue were big influencers at the time when I started actually getting work done on my project. Honestly, smoking weed gave me an appreciation for rap music. That and all kinds of other music. I used to hate anything that wasn't metal. Maybe just some Eminem. I still stay more on the metal side of this sub-genre.
What have been the biggest challenges in being a TM artist?
I would have to say consistency is the number one issue. Not pushing myself hard enough. The learning curve was pretty steep. Learning how to publish, promote on different platforms and all the production involved. Another big thing was finding my own unique sound. I didn't want to sound like anyone else.
How do you feel about the progression of your craft? What goals do you have in the future?
Honestly I've only been making music for a couple years. Compared to most people, my followers are growing steady with all things considered. With the people I've met and the stuff I've done with others online. I'm doing management for Possessed Promotions. Our goal is to make that a legit company. As an artist my goals are to breach 1000 followers on SoundCloud, grow on Spotify and other platforms. I want to make live music videos. And all the other things that come with going up. I have some more live shows coming up soon as well. I want music to be my full time gig. That's definitely priority number one.
Tell me about the latest album. Concepts, themes, ideology and the process of getting it done.
My latest EP is the most accurate representation of myself and what I'm going through. I've never killed anyone. But Asmodeus is a persona to represent me. The demon Asmodeus is gonna do some crazy shit. My first EP lacked structure. Some of it wasn't even trap metal beats. My second EP was when I really started digging deeper into my thoughts and life. There are a lot of hidden messages in there about my life story. You get better as the process goes along. I wanted this to be the best thing I ever made and I feel like I achieved that. It's more along my current life while the second EP was about the past. I messaged $uicide Boy$, Omen 13, City Morgue and Gizmo. All I said was how much do you charge for a feature? Gizmo was the only one who responded. So that's how he ended up on it.
Tell me about KEENiE. How did you guys end up being such good friends in this genre?
It's actually crazy man. I think it was after my first EP, I had this emo rap beat. I felt like going live on Facebook and I was writing lyrics on camera. I simply asked if anyone wanted to collab on it. KEENiE hit me up saying he wanted to work with me on it. It wasn't even trap metal! He was the first person I really clicked with online for making music. So we decided we wanted to make music with each other. He did 2 tracks on my second EP. After we made those songs I knew he wasn't going anywhere and that we were partners for the long run. We have a project called Exeter. We're thinking about adding a third member to that as well.
What is your opinion on the overall health of the trap metal scene?
I don't think it's hit a plateau at all. We are basically the new era of Nu-Metal. All those bands of Nu-Metal incorporated rap into metal. Corey Taylor himself had a rap flow. It wasn't thrash or heavy metal. It's just been revitalized through this. I think trap metal is on its way to rising further. I don't want metal to die out. I think most of your death/metalcore bands are getting a bit similar. You can put 500 bands in a room and 250 will sound the same. Trap Metal hasn't reached its peak yet and it has a future in the next 10 years. I make music for the next generation. The future metal heads.
What kind of effect has TMRC Assault (your collective) had on your journey in music?
The fact that everybody is spread the fuck out. They're all over the globe. There's a lot of different styles coming from different places. I rep for the Midwest while others are bringing heat from overseas. It's just been a positive experience to learn and grow with everyone.
Anything else?
I got one thing I need documented right now. For future reference.
I had a job building fridges when I was making my first EP. It wasn't really all together it was more scattered about. I played my first show and my last track was about the overall EP. I played it and it was the best song I performed that night. After that it's kind of like I hit a wall. That's all it's ever gonna be. I wanted it as a full time job so bad. Being on a assembly line I was stuck with these thoughts in my head all fucking day. So when I officially released my ep on Halloween 2020 I tried to kill myself and got hospitalized. The last track was called 'My Suicide'. I didn't mean it when I wrote it but then there I was. I feel like it was mostly dissatisfaction from the first EP and the first show not going too well. But I'm doing great now and that makes me hopeful for the future.